Access Technology Center (ATC)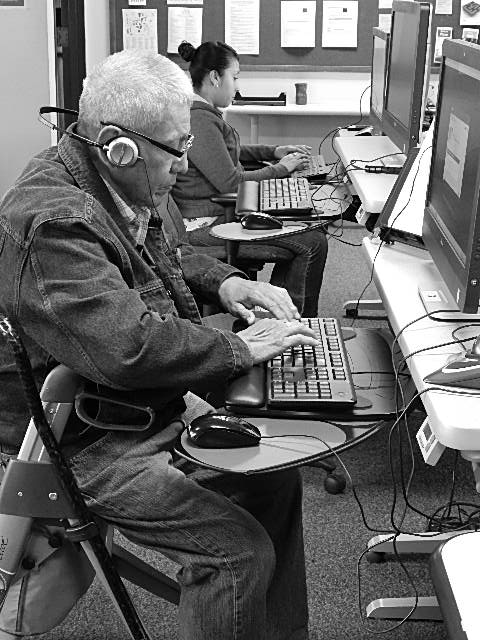 Welcome! The Access Technology Center (ATC) provides assessment and instruction in the use of assistive technology, for students with a verified disability.
New DRD Students must first meet with their Disability Specialist for an ATC referral before receiving services.
Once referred, students will meet with an Access Technology Specialist to determine which, if any, specialized hardware (computers, equipment and furniture) and/or software programs are best suited for their needs.
INTAKE & INSTRUCTION MAY INCLUDE:
1:1 supported instruction in our computer lab, with assistive technology
Self-paced instruction in our computer lab, with assistive technology 
Drop-in, independent computer lab use to work on SRJC assignments
Equipment for temporary loan each semester (recording devices, assistive listening devices, wheelchairs, work station supports, magnifiers, and more)  
---
 ALTERNATE (ALT) MEDIA
Alternate Media includes: instructional materials, textbooks and college publications, which are converted into accessible formats for students with disabilities. The purpose of Alternate Media is to allow access for students, who due to their disability, cannot easily use standard print materials.
 TYPES OF ALTERNATE MEDIA AVAILABLE INCLUDE:
Electronic text (e-text)
Braille
Tactile graphics
Audio books from Learning Ally
Large print 
To make an Alternate Media Request, click on Alternate Media Request Form.
---
COMPUTER PROGRAMS
DRAGON NATURALLY SPEAKING
Dragon Naturally Speaking Professional Speech Recognition Software enables professional PC users to create and edit documents and e-mail, fill out forms, and streamline workflow tasks—all by speaking! You can create custom vocabularies to maximize recognition accuracy. Dragon Naturally Speaking Professional is Section 508 certified to give people with disabilities complete hands-free use of the PC. It can also be used with any Scansoft-approved handheld recorder and allows editing by voice. Dragon Naturally Speaking - Website.
READ & WRITE GOLD (PC & MAC VERSIONS)
This software program reads digital text (your text books) out loud and provides study skills, research, writing and self-editing tools. It allows you to highlight important text within your books and extract it to make a custom study guide. The program can be used on tests with approval from your disability specialist. It is also available, at no cost, for use at home for currently enrolled SRJC-DRD students. Read and Write Gold - Website.
MAGic®
MAGic for Windows integrates magnification and screen reading for visually impaired users.  MAGic has flexible magnification 1X to 60X, automatic document reading with human sounding voices, visible pointers and cursors, increase contrast with built-in color enhancements, typing and mouse echo, and full internet accessibility. MAGic Information - Website.
JAWS FOR WINDOWS
JAWS for Windows works with your PC to provide access to today's software applications and the Internet. With its internal software speech synthesizer and the computer's sound card, information from the screen is read aloud, providing technology to access a wide variety of information, education and job related applications. JAWS also outputs to refreshable braille displays, providing braille support to screen readers. JAWS Information - Website.
KEYBOARDING
Five Finger Typist: Win/Mac Version
Please call (707) 527-4890 to confirm availability.